ClickTrades Highlights
A website operated by KW Investments Limited, clicktrades.com is authorized and regulated by the Seychelles Financial Services Authority (FSA), with license number SD020. The broker offers access to more than 2,100 instruments, ranging from CFDs on Forex, shares, blends, indices, commodities, cryptocurrencies, bonds, and ETFs.
Trading with ClickTrades opens access to numerous trading benefits, including competitive spreads, trusted trading software, educational resources, and premium trading tools such as Trading Central.
With years of experience in the CFD trading industry, ClickTrades earned a solid reputation and it is now operating for customers based in different countries, except for Japan, Canada, the USA, and other restricted areas.
Our ClickTrades review will explore some of the main benefits and will try to provide enough resources for someone to decide whether this is the right trading partner to work with.
Trading Software
At ClickTrades traders are able to choose between two trusted platforms to make their trading journey one to remember. We begin with the ClickTrades WebTrader, a versatile and customizable platform, offering access to the markets via any device supporting a modern browser. Since it integrates analytical tools, multiple charting techniques, and some other extra features, traders are currently using it extensively.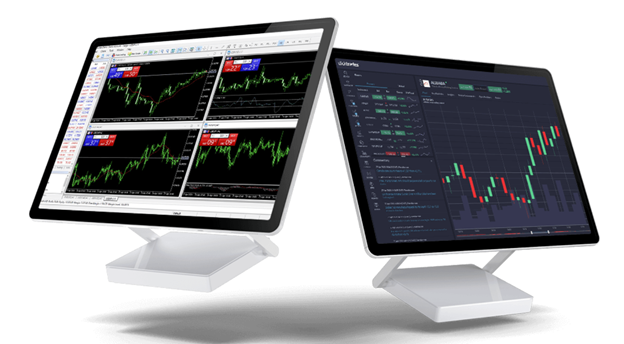 Available on both desktop (Windows and Mac) and mobile (Android), while also integrating the popular Trading Central, WebTrader is an excellent package of resources for analysis and recommendations provided by financial experts.
To make sure that its offer is complete and diverse, ClickTrades has also introduced support for the popular MetaTrader 5. Intuitive and user-friendly, with diverse execution modes, a wide range of analytical tools, lightning-fast trading execution, and the ability to use Expert Advisors, MT5 is one of the top picks among retail CFD traders. They can download it for Desktop, or get the app from Google Play to use it on mobile, as well.
ClickTrades Assets          
Traders working with ClickTrades have the ability to get involved in more than 2,100 assets, including CFDs on forex, shares, blends, indices, commodities, cryptocurrencies, bonds, and ETFs. As all financial markets have been active this year, trading with this brand means you will be able to diversify.
In terms of conditions, the ClickTrades forex trading offer comes with fixed/variable spreads and up to 1:300 leverage. For all other asset classes, spreads are variable and the leverage decreases, depending on the instruments. The broker had also introduced a 0-commission trading offer, which further enhances the competitiveness of the trading costs.
You can trade CFDs on stocks from the healthcare sector, some that are related to COVID-19 vaccines, and try to benefit from the increased volatility. Or you can get involved in CFDs on indices, ETFs, FX, or bonds, in case you want to deal in some of the most popular markets.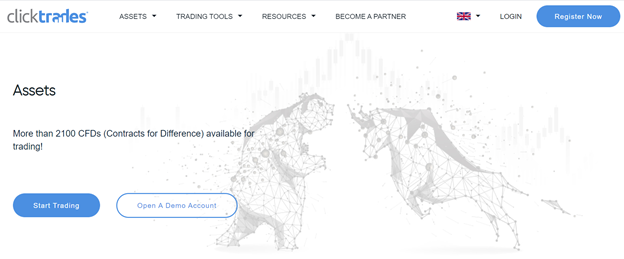 Account Types
Essential, Original, and Signature are the three account types currently available with ClickTrades. Each will require a certain initial deposit and at the same time, will provide access to proportionate trading features and functionalities. The trading schedule is from Monday to Friday, including cryptocurrencies.
Traders can test strategies on a demo account and benefit from different resources provided by the broker to get more educated or to get more insights into the market performance. When it comes to Trading Central, only Signature account holders will get access to it. At the same time, most Premium trading conditions will be available for these clients.
Education
ClickTrades definitely considers trading education seriously, as the brand currently provides access to comprehensive resources, including full access to a video library, daily market news & financial research, daily analyst recommendations from a 3rd party, support from a dedicated account representative, or one-to-one meetings with an account representative.
If you are a beginner or an intermediate trader, these educational tools will serve along the way as a great inspiration and will provide quality information to enhance your skills.
ClickTrades Conclusion
After considering most of the important trading features provided by ClickTrades, we can conclude the broker is trusted and offers combative trading conditions for its customers.
Backed by a renowned financial investment company, ClickTrades positioned itself as one of the biggest trading brands in this industry.
We can recommend it to anyone looking to trade CFDs and aiming to get involved in different markets with ease. There is absolutely no reason to believe ClickTrades is a scam, given its transparency and commitment to the highest regulatory standards.
Risk Warning: The materials contained on this document are not made by ClickTrades but by an independent third party and should not in any way be construed, either explicitly or implicitly, directly or indirectly, as investment advice, recommendation or suggestion of an investment strategy with respect to a financial instrument, in any manner whatsoever. Trading CDF's involves significant risk of loss
The post ClickTrades Review appeared first on Forex Signals, Trade Copier, Forex Trading Strategies.
SOURCE: Forex Signals, Trade Copier, Forex Trading Strategies – Read entire story here.