GXCM Highlights
The challenges raised by the current financial conditions as well as the demand for personalized trading services had incentivized GXCM to provide a unique trading offer, with proprietary trading software at its core.
GXCM is an international online trading platform working on behalf of customers outside the EU and currently supporting thousands of different CFD instruments based on Forex, stocks, commodities, indices, futures contracts, and cryptocurrencies.
Beginners will be pleased with what they can find at GXCM, considering there are a variety of educational resources (trading guides, education center, one-on-one with trading experts, etc.), a groundbreaking platform with easy access, market-leading spreads, as well as the latest economic and market news.
Trades are executed within milliseconds, there is a variety of funding options and currency support, and customer support is available 24/6. Are you curious to find out more about the brand? Read our comprehensive GXCM Review to get more insights into this promising online trading platform.
Trading Software
A unique trading experience is provided by GXCM thanks to its proprietary web-based software. Beginners don't need to fear using it, due to a user-friendly user interface. On the left side, traders can choose what assets to display, in the center, there is the charts and orders section below, while on the right side of the platform, the broker managed to integrate a section with all the latest market and economic news.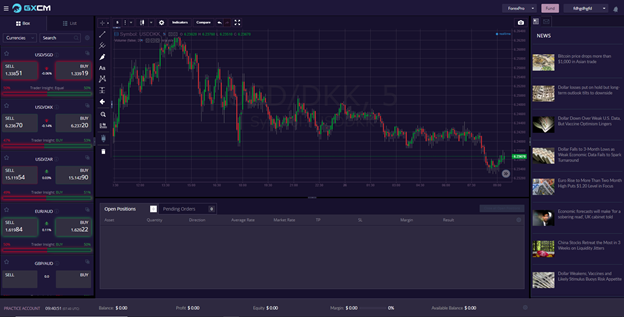 Because this is a browser platform, customers can use it not just on a desktop or laptop, but also on an Android or iOS device. There are no limitations in terms of the operating system because the only thing needed is a good browser.
According to GXCM, the platform combines practicality and popularity, offering a new solution for those that want a personalized trading experience. Charts are a solid advantage, given the support for a wide range of technical analysis tools. Implementing any technical strategy won't be a problem when trading with GXCM.
GXCM Assets
There are no doubts GXCM is a platform for trading Forex, with tens of different currency pairs currently supported. You can trade on the leading pairs (EURUSD, GBPUSD, or USDJPY) and minors or exotic (AUDJPY, USDSGD, or USDZAR) with up to 1:100 leverage, floating spreads, 0 commission, and a usual Monday-to-Friday trading schedule.
Even though FX trading is one of the main capabilities when using the GXCM platform, it is important to note that the brand offers support for other asset classes as well. You can diversify with more than 2,000 shares, stock market indices, futures, commodities, and cryptocurrencies. All the trading instruments are CFDs, meaning customers can go long or short, without limitations. The smallest order size is 1,000 units (micro lot) and that should enable even those with limited capital to get involved.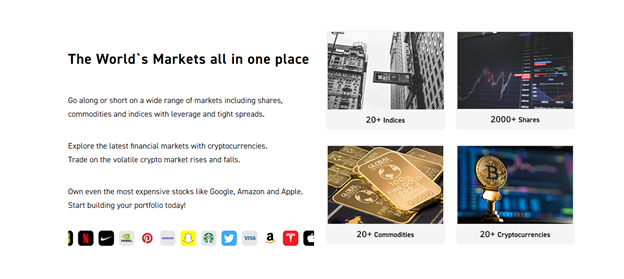 Account Types
GXCM believes that all customers need access to competitive trading conditions and because of that, it only offers a standard account. The main trading features associated are as follows:
–          Mobile friendly trading capabilities
–          Tight spreads
–          Access to an education center & trading guides
–          Latest economic and market news integrated into the platform
–          Milliseconds-fast trade execution
–          Exclusive positions
–          24/6 customer support service
–          Access to exclusive reports
–          One-on-one with trading experts.
Funding an account with GXCM can be done using a credit/debit card or bank wire transfer. Also, all customers get access to expert analysis on the leading stocks from the prior month. GXCM runs bonus promotions occasionally, enabling customers to increase their account size. Although this means more funds available to trade, it would be important to take note of all the terms & conditions associated.
Education
Since all respectable trading brands offer educational resources, GXCM does not fall behind. With access to an education center, latest market news, economic calendar, and most importantly, one-on-one with trading experts, traders have access to efficient trading resources, all in one place.
GXCM believes that with proper knowledge and dedication any beginner can learn how markets work and then develop methods and techniques to take advantage of short-term price movements. This is the main goal of the education section and for now, it benefits from good feedback.
Conclusion
Trading FX CFDs as well as other asset classes can be done in proper conditions when working with GXCM. The brand proves a customer-oriented approach and with plenty of features and tools available, getting involved in the financial markets is no longer just for the privileged few.
Our analysis ends with a positive conclusion on the services provided by GXCM. This a safe and transparent online trading platform that should be considered by a broad range of CFD traders.
The post GXCM Review appeared first on Forex Signals, Trade Copier, Forex Trading Strategies.
SOURCE: Forex Signals, Trade Copier, Forex Trading Strategies – Read entire story here.